Swapperoo - a fresh challenge for match-three games addicts
General information
Developer

Fallen Tree Games Ltd

Programming and Design - Joe Moulding

Art & Design – Lewis Boadle

Music – Jacob Quistgaard

Platforms

iOS (iPhone, iPad, iPod touch)

Release date

January 14, 2016

Genres

Match-three puzzle game

Mode

Single-player
Gameplay:
This is a fresh new challenge for those who are obsessed with match-three games or match-three games addicts. Swapperoo is the product of the Quell puzzle trilogy creators.
The rules are simple: tap an arrow to move it in the direction it faces. Make a row of 3 tiles of the same color and the tiles disappear.
The rules are quite simple. You have to create a row of 3 tiles of the same color by tapping an arrow to move it in the direction it faces. Swapperoo makes your game experience quite different. Together with square tiles, there are now arrow-shaped puzzle pieces facing in several directions. These arrows are the only tiles that you can tap to move. And you can only move them in direction that they are facing.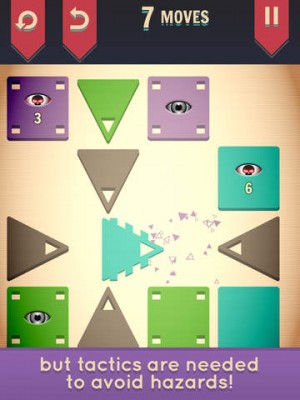 You also get power-ups periodically, some of them permit you to swap tiles. Circular puzzle pices can be used to eliminate tiles around them. Swaperroo game gives players plenty of options for removing and matching tiles while still remains relatively challenging. This game can be devious and you may find yourself in some situations that require clever manipulation of the game board. There's an assortment of objectives to keep you on your toes. For example, there are tiles that chase you, tiles that must be matched within a few moves, or tiles that must be protected, and lots more.
Players will find themselves in situations where they just have a limited number of turns to get rid of certain tiles. If a skull tile shows up, then, you only have a short amount of time to make a match with that tile, or else, it will blow up and the game will be over.
Note: Swapperoo game is designed for iPhone, iPad, and iPod touch. It requires iOS 8 or later. You can download it for $0.99 on the App Store, with no ads or in-app purchases to interfere with your enjoyment.
Reception:

This game has received many good comments from players, known as 5 star game.
Video: