Smartphone Review: Xiaomi Redmi Note 3
Xiaomi Redmid Note 3 product is quite hot in the phones segment recently because designed and configuring impressive than the selling price of the product. Let's found it!
Look and feel
The moment you take it out of the box, the Redmi Note 3 looks and feels incredibly premium, especially in gold. The full-metal body gets a smooth matte finish that doesn't attract fingerprints. It's easy to keep clean too, as dust and grime come off with a simple wipe.
Smartphone Review: Xiaomi Redmi Note 3 back
In the front, we have the 5.5-inch full-HD IPS display with very narrow side bezels. There's a glossy rim running along the edge of the front facia, which is elevated above the rest of the display to protect it from scratches when the phone is placed face-down. It's a nice design touch but it's also a bit of an annoyance on the ear when you're making calls. The display has a scratch resistant layer, although Xiaomi hasn't explicitly stated this anywhere.
Smartphone Review: Xiaomi Redmi Note 3 sim slot
There's a 5-megapixel camera on the top along with a notification LED for alerts. Mercifully, the capacitive buttons at the bottom are backlit. The volume rocker and power button are quite ergonomically placed on the right, while the left side houses the hybrid Dual-SIM tray. In addition to the headphones socket on the top, we also have an infrared (IR) emitter. The phone uses a standard Micro-USB connector for charging and data transfers.
Smartphone Review: Xiaomi Redmi Note 3
Around the back, we have a 16-megapixel camera, a dual-tone dual-LED flash, the fingerprint sensor, and a speaker grille at the bottom. The Redmi Note 3 ships with a 10W charger, data cable, SIM ejector tool, and instruction leaflets. The quality of the accessories seems good, and they should last.
Smartphone Review: Xiaomi Redmi Note 3 charger
We feel that Xiaomi has done a terrific job with the design and aesthetics of the Redmi Note 3. The finish of the phone is excellent and the display is crisp and vibrant. The IPS panel has very good colour reproduction and features Xiaomi's Sunlight Display hardware feature which indeed makes it decently legible even under direct sunlight.
We also like how comfortable the phone feels in the hand. It's a bit tricky to use one-handed, but is fairly slim at 8.7mm with good weight distribution.
Specifications
The Xiaomi Redmi Note 3 might be a budget smartphone but there's certainly nothing low-end about the hardware it packs. This is the first phone to roll out with Qualcomm's Snapdragon 650 SoC, which is a pretty big deal given its near-flagship level performance in some benchmarks. It's a hexa-core SoC, much like the Snapdragon 808 found in the Moto X Style, but instead of the Cortex-A57 cores, we have two of ARM's more powerful Cortex-A72 cores running at 1.8GHz. The other four cores are Cortex-A53s which chug along at 1.4GHz. This SoC still uses the 28nm fabrication process but the GPU is a newer Adreno 510, which is one notch lower than what's present in the flagship Snapdragon 820 chip.
Smartphone Review: Xiaomi Redmi Note 3 Specifications
In benchmarks, we witnessed some pretty impressive numbers especially considering the price of the device. We got an average of 74,303 in AnTuTu, which is higher than what we got from many high-end phones based on the Snapdragon 810. GPU performance is equally impressive, and we recorded 31fps in the T-Rex test in GFXbench, which once again is competitive to scores posted by Snapdragon 810 devices.
The Xiaomi Redmi Note 3 will come in two variants. What we have today is the one with 3GB of RAM and 32GB of onboard storage, but you can opt for the other model with 2GB of RAM and 16GB storage if your budget is tight. Officially, storage can be expanded by up to 32GB by using a microSD card instead of a second SIM in the hybrid slot, though unofficially you can put cards of bigger storage capacity as well.
Thanks to the Qualcomm chip, the phone features Category 7 LTE for Band 3, 5, 40 and 41 along with VoLTE support. You also get dual-band Wi-Fi b/g/n/ac, Bluetooh 4.1, USB OTG, FM radio, Miracast, GLONASS, and BeiDou. NFC is one feature that's missing.
Smartphone ReviewXiaomi Redmi Note 3 screen
The phone ships with an Android Lollipop fork called MIUI 7, which is has been reworked from the ground up. Compared to earlier versions of MIUI, version 7 is certainly more likable and better polished. It's still a single-layered interface, but it does let users customise the look and feel with transition effects and themes. The Theme Store app has a pretty good selection of free themes, and we particularly liked the Marshmallow one.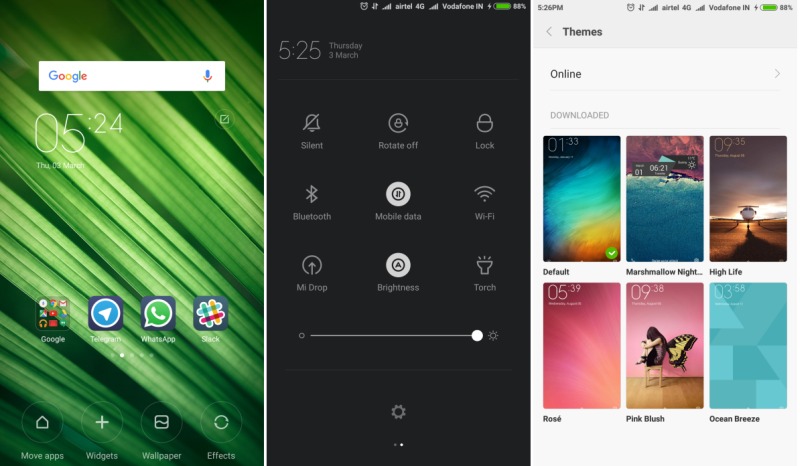 Smartphone Review: Xiaomi Redmi Note 3 UI
The lock screen gets a feature called Wallpaper Carousel, which displays random wallpapers from a user-selected collection which is updated daily. The notification shade has separate tabs for incoming alerts and toggle switches, to avoid clutter. There's also a lite mode for those looking for a simplified interface, and a child mode that lets you restrict which apps your children have access to when you let them play with your phone. The Settings app is where you'll find the most interesting changes.
Reading mode, which is essentially a bluelight filter, can be toggled from the notification shade. The strength of the filter can be adjusted in the Display sub-menu. The fingerprint sensor can recognise up to five fingerprints. Xiaomi Vice President Hugo Barra stated during the phone's launch that it's possible to record your lip pattern too, though it failed to unlock the phone when we tried it.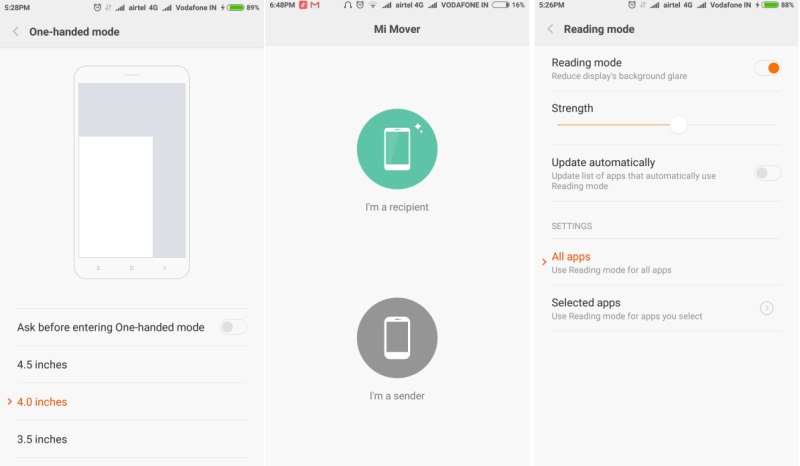 Smartphone Review: Xiaomi Redmi Note 3
Signing up for a Mi account gives you 5GB of cloud storage for backing up your contacts, messages, photos, etc. You also have the option to password protect specific apps to keep nosy people out of your private chats, for example. You can hide files with fingerprint authentication using the Explorer app.
Xiaomi has incorporated a one-handed mode, which you can enter or exit by simply swiping right from the capacitive Home button. You can even choose the size to which you want the display to shrink. The phone comes with a preloaded app called Mi Mover which lets you move apps and data to or from any other Android device. MIUI 7 supports up to 13 indic languages. Apart from the standard Google keyboard and SwiftKey, our test unit also had a keyboard called Fleksy, which turned out to be much better than we had expected.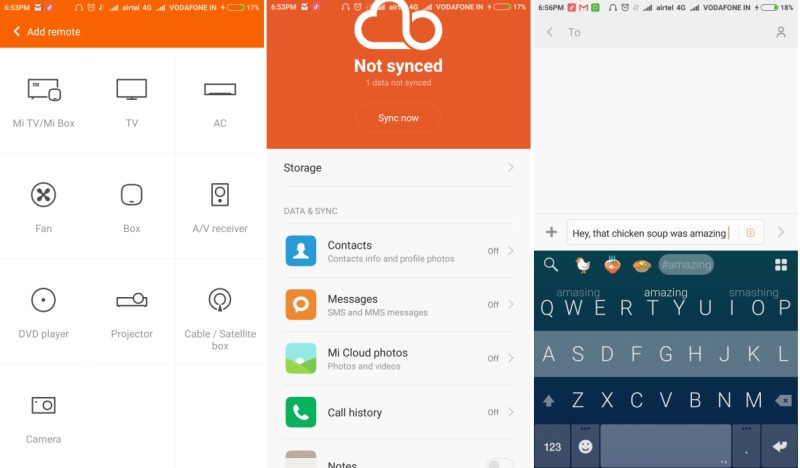 Smartphone Review: Xiaomi Redmi Note 3 apps 2
In terms of preloaded apps, you get basic productivity tools along with some additional ones such as Mi Remote. This lets you set up the IR emitter for various infrared-capable devices, including DSLR cameras. The Mi Store app is a marketplace for all Xiaomi products sold in India. The Security app lets you monitor data usage and run basic maintenance tasks. You also get Facebook, WPS Office, and the usual Google apps.
Performance
Xiaomi Redmi Note 3's hardware and software come together nicely to deliver a very pleasing Android experience. The interface is fluid with barely any noticeable stutter when multitasking. Call quality is good and the phone had no trouble latching on to multiple carriers' LTE networks in Mumbai.
Our review unit was fairly stable apart from a few reboots which occurred when the phone got warm when running benchmark tests with it plugged in. Speaking of heat, the metal body does get warm during continuous video playback and when recording videos, but it doesn't get too uncomfortable.
Smartphone Review: Xiaomi Redmi Note button
One niggling issue we did encounter was the long time it took to get both SIMs working. This wasn't a problem if there was only a single SIM in the phone, but when we inserted a second one, it would take a really long time for the phone to detect it. We were stuck with a 'No Service' message for more than 10 minutes on one such occasion. Rebooting the phone didn't help. This could be a pain if you swap SIMs often, but otherwise it's not that big a deal. We're happy to report that the fingerprint sensor works well and is quite fast at unlocking the phone.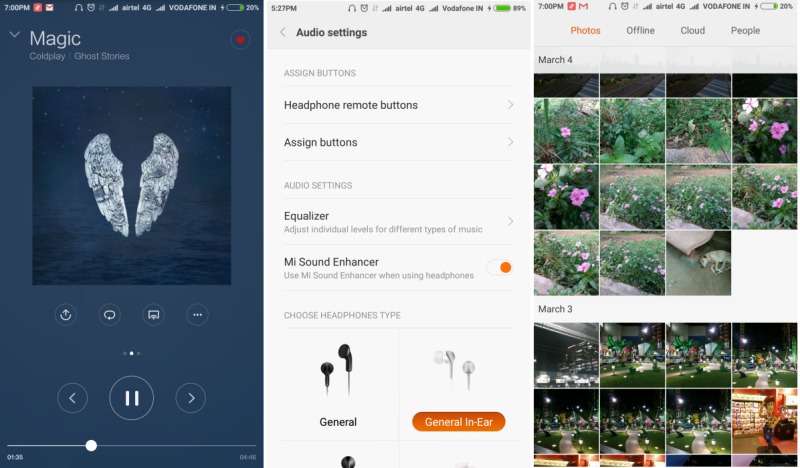 Smartphone Review
The Redmi Note 3 is great for multimedia, especially thanks to its crisp display. The phone can handle 4K video playback. The speaker is fairly loud for alerts and media although we missed the stereo effect. The music player is functional and you can switch between different audio profiles set for different types of earphones. You can quickly share media files with other Xiaomi devices using Mi Drop. We didn't have issues with audio quality with our own earphones. In the 32GB version, you get about 26.2GB of accessible storage space. On average, you have about 1GB of free RAM available if you only have a single app running.
Camera
The rear camera has a 16-megapixel sensor and a wide f/2.0 aperture. Both landscapes and macro shots captured in daylight have good detail. Colour reproduction is good too. However, objects in focus lack a bit of definition and aren't very sharp, but this is only visible once you zoom in. Images look good on the phone's display though, and as long as you don't need to crop the picture at full size, you should be good.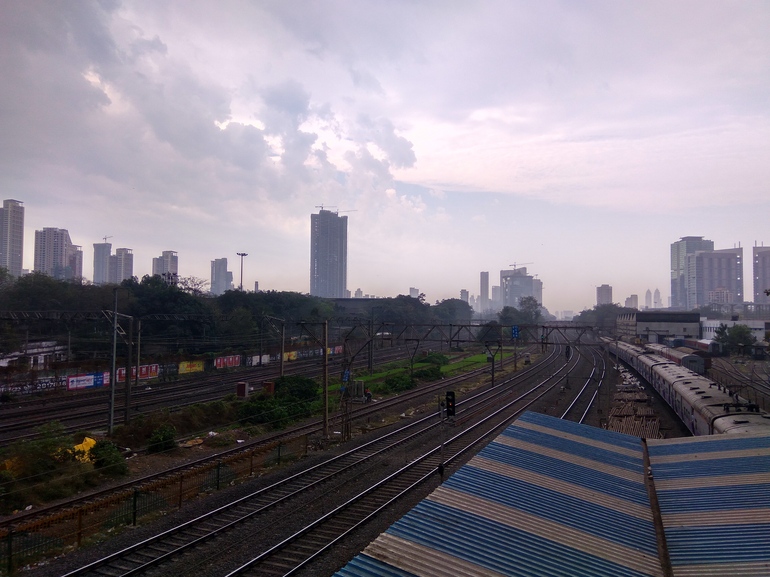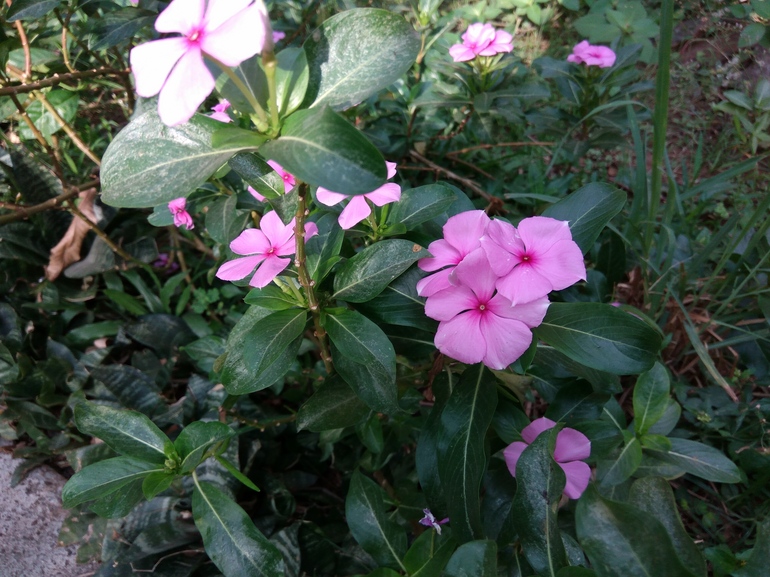 Smartphone Review: Xiaomi Redmi Note 3 camera
The camera also struggles a bit with sharpness and depth under artificial lighting. Low-light images are not too shabby, as there's barely any visible noise in the dark areas. The dual-tone flash is decent for nearby objects but don't expect too much from it. 1080p video recording is good but very shaky due to lack of any software stabilisation. Also, 720p video quality is not great so we recommend shooting in full-HD all the time. The front camera captures good selfies in daylight thanks to the same wide f/2.0 aperture.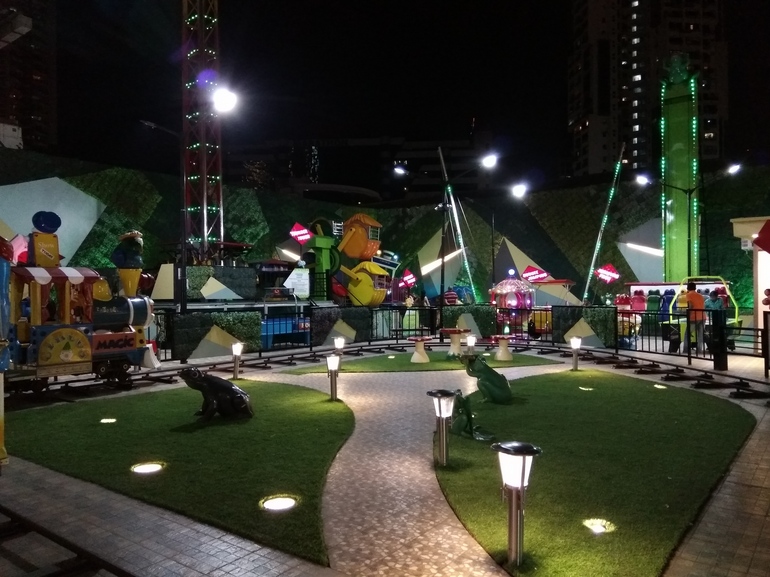 Smartphone Review: Xiaomi Redmi Note 3 camera

The camera app is simple to use and has plenty of shooting modes. We liked the handy HDR toggle switch next to the shutter button, which makes life a lot simpler. You swipe down or left for filters, and the other way for shooting modes, depending on whether you're holding the phone in landscape or portrait. The Panorama mode does an okay job of stitching photos together. The Manual mode lets you play with white balance and ISO settings but there aren't any options for aperture or shutter speed.
The focusing speed is good, even in low light. You can capture an image with the secondary shutter button placed in the centre of the focus ring. Burst mode also works well. Other modes includes Gradient, which helps level out shots even if you tilt the phone; Fish eye, which adds a fun effect; and Beautify which lets you smoothen out skin blemishes.
Battery life
The non-removable 4050mAh battery managed to get us through 12 hours and 21 minutes of continuous video playback, which is quite good. During actual usage, we easily managed to go more than a day, and this was without resorting to the battery saving modes. The phone supports Qualcomm's Quick Charge feature, and we managed to charge the Redmi Note 3 up to 20 percent in half an hour. We wouldn't call this super quick but it's better than nothing.
Smartphone Review: Xiaomi Redmi Note 3 box
Verdict
The Xiaomi Redmi Note 3 is priced at Rs. 9,999 for 2GB of RAM and 16GB of storage, and Rs.11,999 for 3GB of RAM and 32GB of storage, which is very aggressive when you consider the overall package. Xiaomi has also partnered with Hungama to offer a free two-month subscription to its streaming service.
It's hard to find fault with the Redmi Note 3 as it ticks all the right boxes, and in some ways, rivals phones that cost a lot more. The metal body and fingerprint sensor are welcome additions to the Redmi series, and make the Note 3 feel relevant in 2016. You also get a great display, very good battery life, and a powerful SoC. The camera isn't too bad, although we could have done with sharper stills and better quality HD videos. MIUI 7 is improved compared to previous versions, and is quite likable. We do wish storage expansion beyond 32GB was officially supported, and it woudn't have hurt to throw in NFC just to complete the package.
A few kinks aside, we believe that the Xiaomi Redmi Note 3 is easily one of the best smartphones available for under Rs.15,000 today, and has the potential to get better with future software updates. If you are confused between this, the Lenovo Vibe K4 Note (Review) and the Le 1s (Review), we can confidently give the Xiaomi Redmi Note 3 our vote.